Waste Water Filter Presses
When it comes to separating solids from fluids, a filter press is a preferred method among many. In fact, utilizing a filter press is a very popular method for mud extraction. What is the role of the filter press in the water treatment process? What sizes are available? These questions and more are discusses here.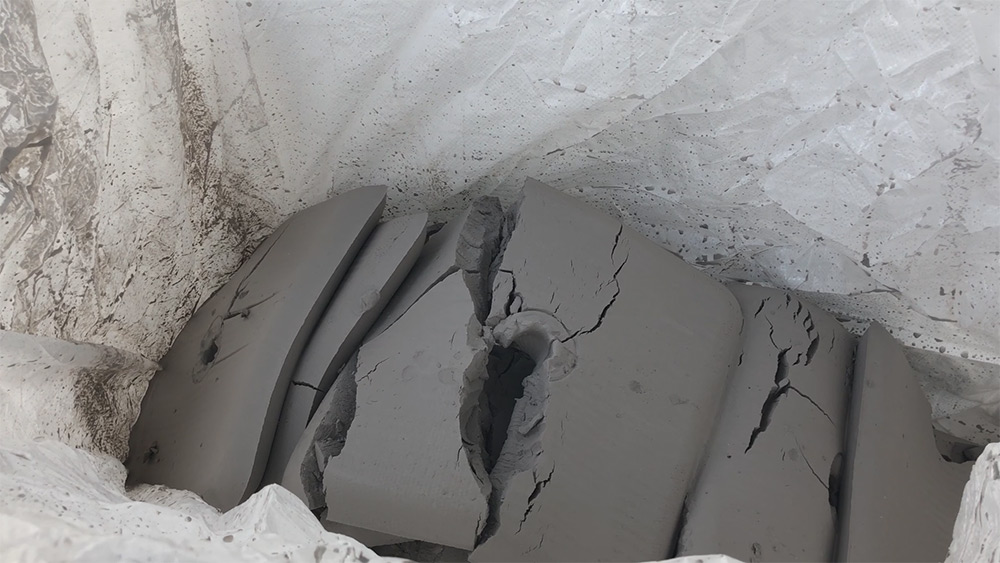 Filter Press's Role in Water Treatment
Water treatment is required in a number of industries. In fact, food, pharmaceutical, and chemical are a few examples of industries that benefit from water treatment systems. The stone fabrication industry is also a beneficiary of water treatment technology. How so?
Many fabrication shops use water during the fabrication, cutting, and smoothing of various natural and other fabricated materials such as:
Granite
Marble
Quartzite
Limestone
Onyx
Soapstone
Slate
Travertine
Quartz
Cultured Marble
Ceramics
Porcelains
Concrete
During some fabrication processes, water is used to keep the temperature from getting too high on certain materials. For example, The polishing process on quartz surfaces can burn the resin that is often used as a binding material. The result of using water during fabrication is the presence of a mixture of stone dust and water. This "slurry" is separated into reusable water and mud. Separating the stone dust from the water is often performed by using a filter press.
Filter Project Filter Press Quality
Filter Project filter presses are built using strong electro-welded steel. Additionally, they are treated using special paint or galvanized steel as needed to ensure protection. Also, the parts that contact the liquid are constructed using a special aluminum alloy or stainless steel material for additional protection.
The plates used in our filter presses are available with fixed or variable volume for solving a variety of problems. Filter Project filter presses are provided only after being tested in accordance with standards.
Filter Press Sizes
Filter Project offers a variety of filter presses for the stone fabrication industry. In fact, there is an array of machines to haandle virtually any flow rate requirement. The AS Series of Filter Project filter presses cover a range of filters from small to large.
Specifications for Filter Presses
As mentioned above, Filter Project offers a variety of filter presses designed for various kinds of filters being used by stone professionals. Whether you are treating waste water or recycling water for a small shop or a large plant, Filter Project has equipment designed to accommodate your work environment.
Below is a table showing the AS Series of filter presses that can be used to help with your water clarification system
AS Series Optional Features
Gangways Alog the Machine's Perimeter
Supporting Structure
External Cover for Protection
Automatic Filter Washing
Other Automations
Full Line of Filterpress Equipment
Filter Project offers a variety of automatic filterpresses. The AS 300 is one of the filterpresses we use for our water recycling equipment. Each of our wastewater clarification and recycling machines makes use of one of these filterpresses. The following table shows the specifications for our filterpresses.
Filterpress Technical Specifications
Model
Plates Dim.
Plates
Total Volume
Total Power
Weight
Dimension
C30
C45
A
B
C
D
E
AS 300
300×300
4
6
9
1.1 Kw
700
2,350
2,100
700
600
1,760
8
14
21
800
2,500
2,100
AS 400
400×400
4
9
13
1.1 Kw
800
2,350
2,100
850
750
1,860
8
21
31
900
2,500
2,100
AS 500
500×500
5
20
30
2.45 Kw
1,100
2,050
1,345
1,010
1,010
1,600
8
36
53
1,250
2,500
1,805
10
46
68
1,350
2,850
2,240
AS 630
630×630
5
35
53
2.45 Kw
1,250
2,050
1,345
1,140
1,140
1,660
8
62
92
1,400
2,500
1,805
10
78
118
1,600
2,850
2,240
15
122
184
1,750
4,000
2,990
AS 800
800×800
10
136
180
6.45 Kw
3,000
3,625
1,870
1,450
1,080
1,985
15
212
280
3,400
4,670
2,620
20
288
380
3,800
5,715
3,370
AS 1000
1000×1000
15
329
490
6.45 Kw
6500
4,800
2,680
1,800
1,280
2,015
20
446
665
7,000
5,950
3,430
25
564
840
7,500
7,100
4,180
30
680
1,015
8,000
8,250
4,930
AS 1200
1200×1200
31
960
1,440
12.45 Kw
12,000
8,559
4,348
2,230
1,620
2,303
41
1,280
1,920
14,000
9,704
5,493
51
1,600
2,400
16,000
10,849
6,638
61
1,920
2,880
18,000
11,994
7,783
AS 1500
1500×1500
31
1,545
2,310
12.45 Kw
21,000
8,559
4,348
2,530
1,920
2,603
41
2,060
3,080
23,000
9,704
5,493
51
2,576
3,850
25,000
10,849
6,638
61
3,090
4,620
27,000
11,994
7,783
---
Demonstration Video
Filter Presses by Filter Project